Brian Toft, passed away on Saturday 12th January 2019 Hong Kong Time.
After one and half year fighting a rare cancer form the treatment was making great progress
alas weakening his immune system.
He caught a bad case of pneumonia was hospitalized on Thursday and passed away dues
Lived in Kenya from 1952 to 1963 ....lived in Nanyuki and went to Nyeri Primary then St Marys and then Prince of Wales. Dad was RSM of 3rd Battalion K.A.R. Grandfather was with Caltex at Sadler house where we moved to in 1960.....their surname was Hawksworth ..rest of that side were farmers in Kitale and Eldoret .
P.O.W. from 1958 to 1963..Nicholson house.... Mikado ..great fun ...so was the role of Oliver that he had with the Donovan Maule Theatre company when they visited...but preferred my boxing days..!!
Left Kenya Flight BOAC....930pm December 11th 1963
Married to Wendy ...daughter called Sharon ..and son called Gary
Career....33 years in the Royal Navy ending up as the commander of HMS Daedalus......General Manager of the LRC a private members club in Hong Kong for 7 years .....General manager of the Tanglin Club in Singapore for 3 years and then General Manager/secretary of the British Club in Singapore.
Adrian Grimwood, Richard Cox and Bill Poppleton were great friends.
Born 31 May 1947 Died 12.1.2019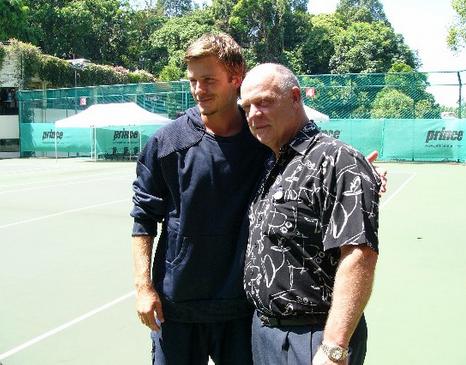 Photograph above
taken during the Olympic bid weekend July 6th 2005
The football player on the left has only a slightly better handicap for golf
than the 18 handicap
that Brian has